Importing & Exporting templates is one of the essential tasks while building WordPress Websites. Elementor not only gives us the flexibility of importing and exporting Templates but also makes it easy to reuse and save the same Template for many projects.
This post explains a step-by-step guide to How to Save, Import, and Export Templates in Elementor.
How to Import Elementor template:
To import an Elementor template, first, open your WordPress Dashboard > Templates > Saved Templates.

At the top of the page, select the option Import Templates, upload JSON format file & click on the Import Now button.
Once you import the file, you can see it in your template list & can be used in any layout.
Saving Page as a Template in Elementor
First, open the page with Elementor Editor. Click on the 

up arrow icon

 in the bottom left of the page and select the 

Save as Template

 option.

After clicking the option, a new window appears; give a name to your Template and save.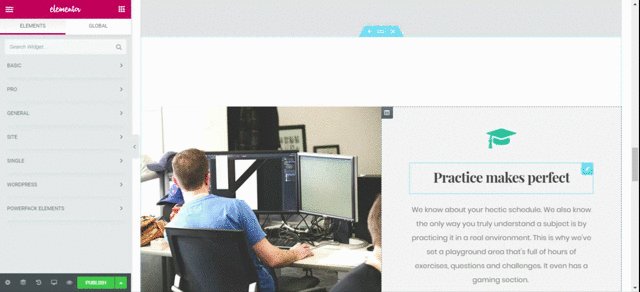 Saving Section as Templates
Elementor also provides the flexibility of saving a section/part as templates.
For saving a section, choose the section you want to save and right-click on the 

Edit Section

.

After clicking the section, a menu appears with a few options; choose the 

Save as Template 

option. Give your Template a proper name and save.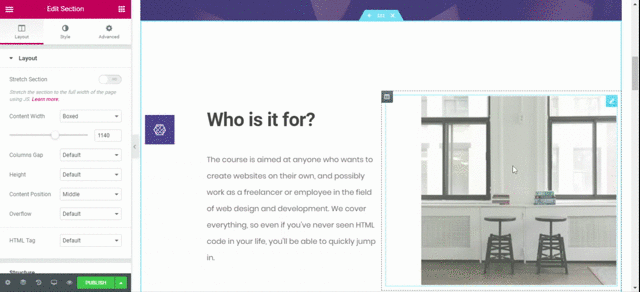 Inserting your Saved Templates
With Elementor, you can insert a section as well as a complete Template. For both options, you have to follow the same steps.
Give it a look:
Click on the 

folder icon

 in the Elementor widget area.

In the Elementor library, select 

the My Templates

 tab. Here you see your previously saved Template. To insert template click on the

 Insert button

, the Template will be added into your layout.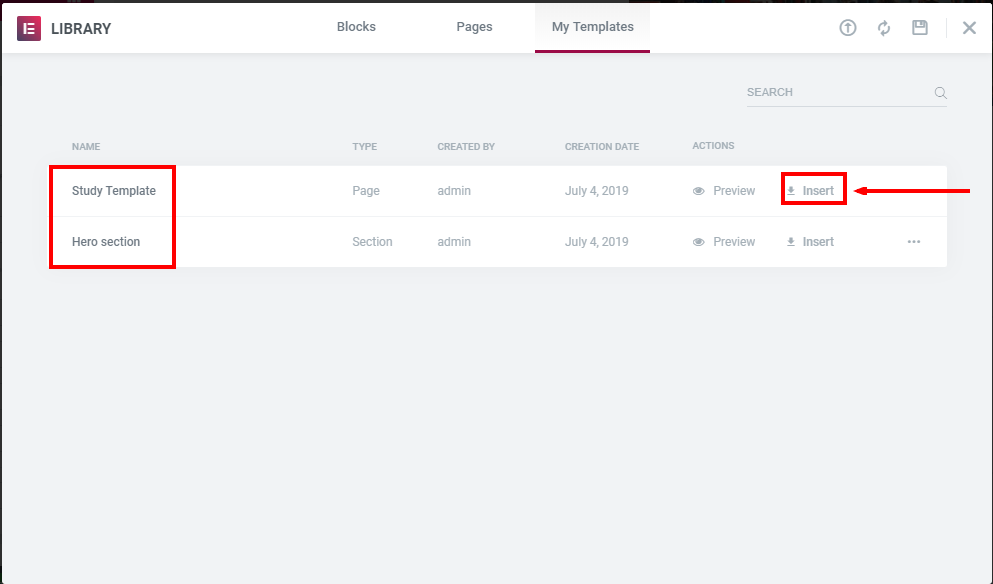 3. After clicking on the insert option, a message will appear on the screen telling whether you also want to import document settings of the Template.
You can choose the option "yes" or "no" as per your choice.
How to Export Elementor Templates
You can export templates from the WordPress dashboard. For exporting Template, open the
WordPress dashboard> Templates > Saved Template.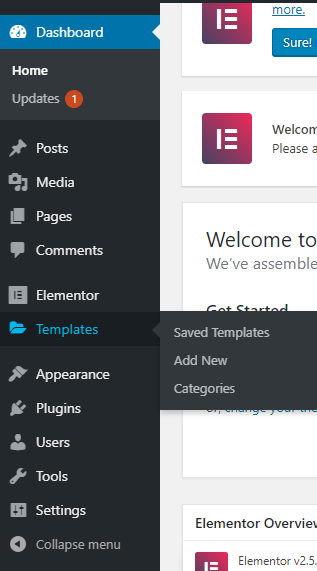 Choose the Template and click the Export Template button.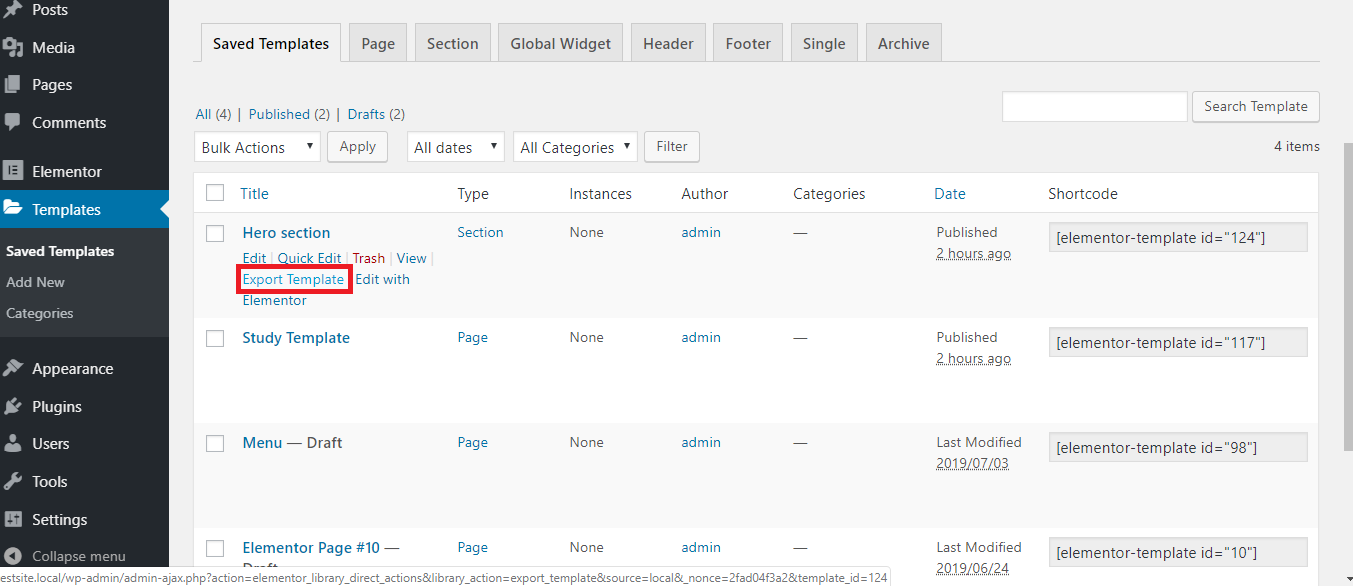 You can also export a template from the Elementor library. Open the Elementor library & click on the My template tab. Under My Templates, click the three dots at the right and click Export.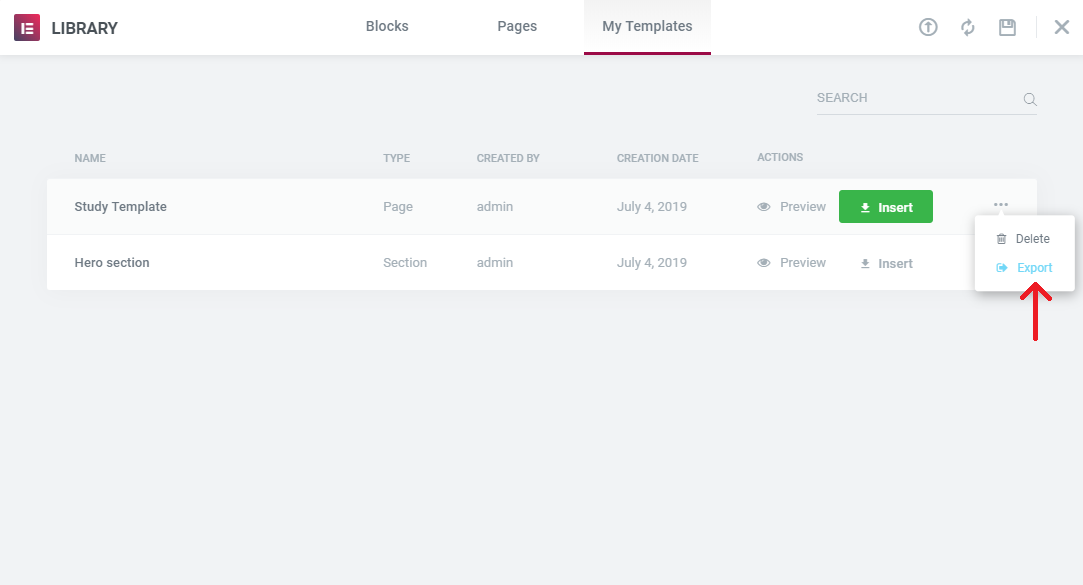 Note: In both methods, the file will be saved in a JSON format.
---
---