Hey there! If you're thinking of moving your website from a local install to a live server, or from one server to another, I've got some exciting news for you! It's actually a pretty straightforward process, and the All-In-One WP Migration plugin is a fantastic tool to assist you along the way. The basic idea is to take a backup of your website in one location, and then restore it in another location. In this case, we'll be using the All-In-One WP Migration plugin to help us with the migration process. Keep reading for a step by step guide on how to migrate your Avada site using this plugin.
Installing The Plugin
All-in-One WP Migration is available in the WordPress repository. This means it can be installed and activated directly from WordPress. Navigate to the Plugins > Add Plugin page and search for 'All-In-One WP Migration'. When it shows on the page, you just need to click Install, and then when that is finished, you will need to click Activate. The plugin is now installed, and can be accessed from the WordPress Main Menu.
All-in-One WP Migration is a good choice for moving your website. It's simple and doesn't have any complicated settings. It only exports your website's content and database, not WordPress itself. To import your website to a new location, you need to have WordPress already installed. But the process is easy to follow. Let's take a closer look!
To export your WordPress site, click on the All-in-One WP Migration link in the Dashboard menu. This will take you to a page with an 'Export To' button at the bottom. Simply click on this button to get started. Extra options, such as Find and Replace, are available, but for most users, clicking the Export To button is sufficient.

The available options are exclusion options, and some are purely for troubleshooting purposes. Most users will not need, or want, to exclude any of their site's content, but it's worth having a look to see if any of the options apply to your site.

Once you've chosen your options, click the 'Export To' button. A dropdown menu will appear with different export options. Keep in mind that the free version of All-In-One WP Migration only allows you to select the 'File' option. If you want to use other export options, you'll have to buy the appropriate extension. For now, we'll just export the file.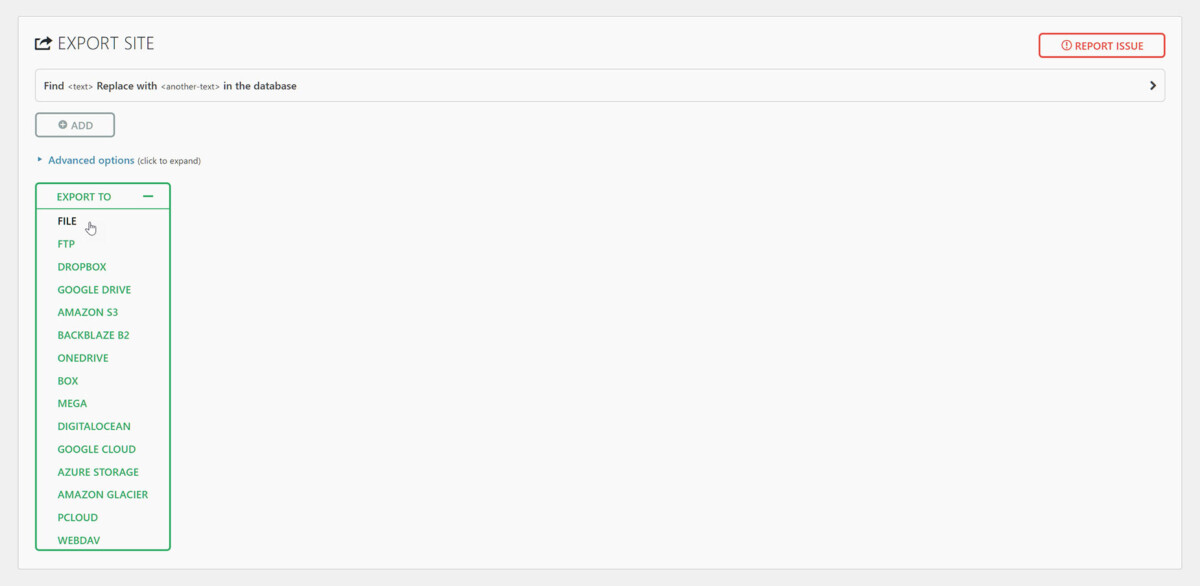 The plugin then prepares the Export file. This may take some time, depending on the size of your site. At the end of the process, you will see a 'Download' button. The file is also stored in the Backups section found at All-In-One WP Migrations > Backups. Click on the Download button to download the Export file to your local computer. Again, this may take some time, depending on the size of the file and your Internet speed.
Once you have your file, you are ready to move on to the Import Process. This takes place on your new server.


Import The Site
Now that you have your Export file, it's time to finish up the migration of your site. Regardless of whether you're transferring your site from your local production site to a new server or switching hosts, the process remains identical.
The starting point for importing the site is a fresh install of WordPress on your destination location. If it's a brand new site, then all you need to do is organise the hosting and domain name, and install WordPress in your new account. If you are moving a site from one host to another, and you would like to avoid downtime, there are a few extra steps you need to take. There are many ways to do this, depending on your hosting, but basically, you want to be able to log in to your new account and import the site before changing nameservers. My favorite way of doing this is to get the IP address of the new account and use the hosts file on my computer to temporarily map the IP to the domain name, so I can complete the import and only then, when the site has been migrated, change nameservers.
Alright, so after you've successfully installed WordPress on your desired destination, the next step is to install the All-In-One WP migration plugin once again. After completing that, navigate to the Import section. The dialog box that appears is just as easy to use as the Export one. It's worth noting, however, that your hosting might have a low Maximum Upload File Size, which is depicted in the image below. Fortunately, the Servmask website has thorough instructions on how to resolve this issue.

Based on the second image, the file upload size has been increased to address any file size limitations.

IMPORTANT NOTE
All-In-One WP Migration has a built-in limit of 512MB for uploading files. To overcome this for larger sites, the Unlimited Extension must be purchased.
Once you are ready to upload simply click on the 'Import From' button and navigate to the file you downloaded earlier.
Once you have selected your file, the plugin will start preparing the upload. You'll notice a lot of activity as it checks for extension compatibility and prepares the upload. After that, you'll be taken to a screen that informs you that by proceeding, files and databases will be overwritten. You can either click Proceed to import your site or Close to abort. If you choose to proceed, the import process will begin. The time it takes will depend on the size of your site and the speed of your host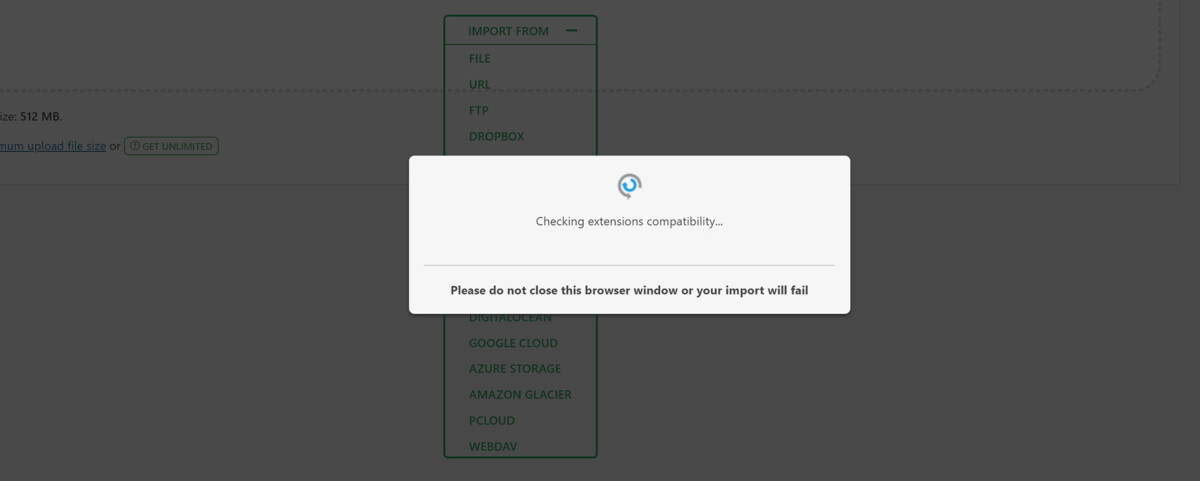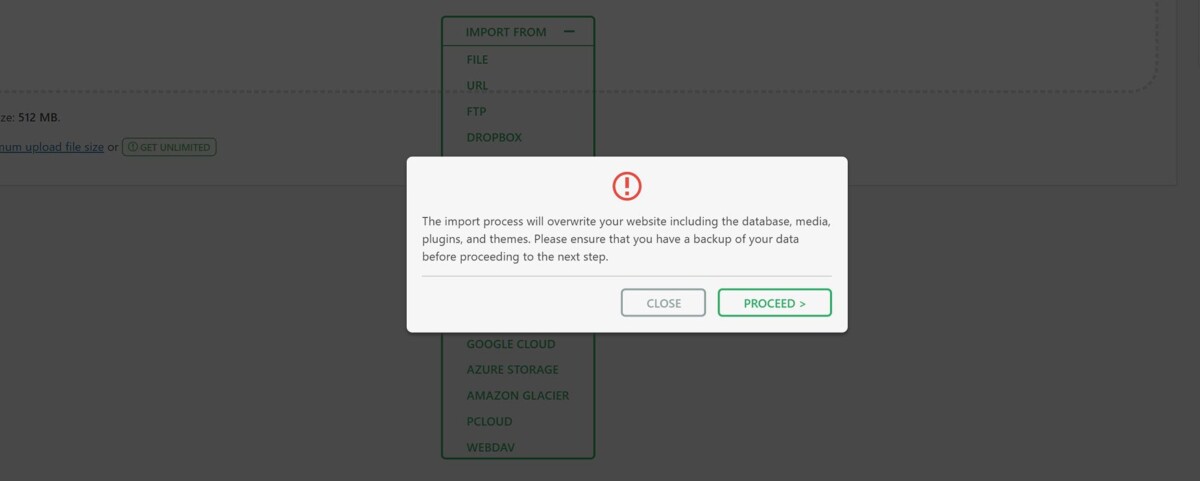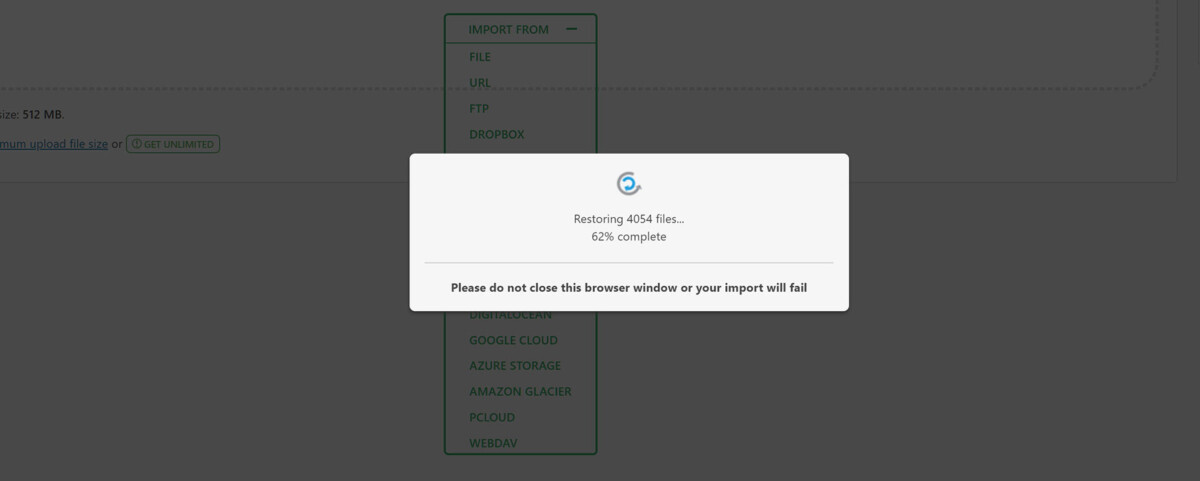 Congratulations! Your data has been successfully imported to the new site. You will be presented with a final screen to confirm this. To complete the process, simply log in to the new site using your old site's credentials and save the Permalinks twice. By doing this, your site will be fully migrated and ready for use. Thank you for choosing our services and we hope you enjoy your new site!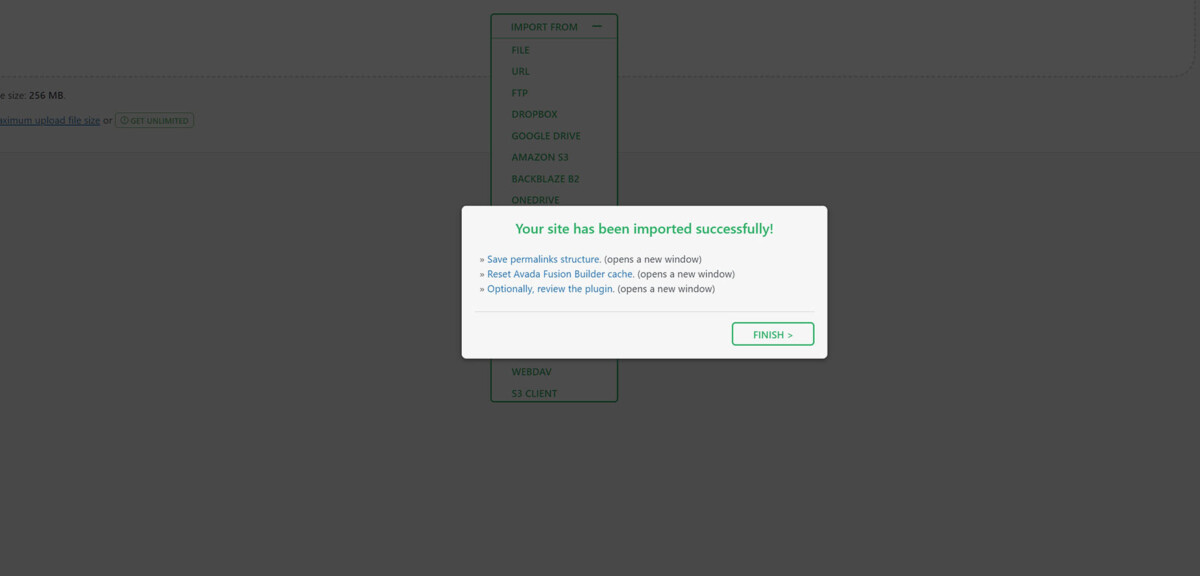 Useful Links & Resources
---
---